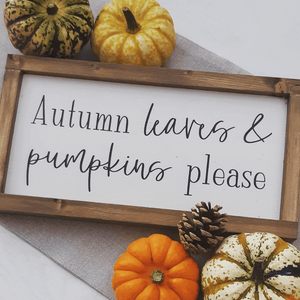 Our 'Autumn Leaves & Pumpkins Please' is beautiful Wooden Rustic Farmhouse Framed Sign. 
It's starting to feel like Autumn! Leaves are falling and pumpkins are popping up in the shops. Such a beautiful time of year! 
We have a beautiful range of handmade framed signs. All signs are freestanding and also come with a wall fixing attached. White sign with black calligraphy.
Measures: 34cm x 18cm
Pre-order available - Usually shipped to us in 2 weeks from our supplier.